DONATE your old String instruments
Do you have an old string instrument sitting in the back of your closet? Great River Strings is looking for donations of stringed instruments.
These instruments would be used for players that are trying a new instrument, or they may not be able to afford purchase one to play or participate in the Great River Strings.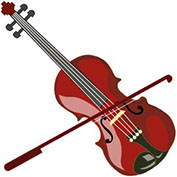 We are looking for Violins, Violas,
Cellos, Bass, Harp,etc.
To donate, please contact
Mary Aulie, 218-839-1085
maryaulie@hotmail.com